Midland Tarmacadam Surfacing boasts over 20 years of professional experience in commercial and residential projects.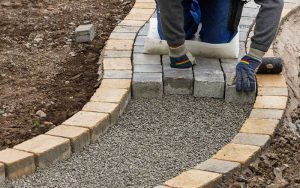 Midlands Tarmacadam Surfacing Ltd is a Walsall based company covering the entirety of The Midlands. We are surfacing professionals in exterior flooring for commercial and residential properties, with a professional work force with operatives that have over 20 years of experience each. When it comes to domestic driveways no-one knows the business quite like us, with customers consistently reviewing us as professional, reliable, and with a high standard of workmanship. With both your driveway works and dropped kerbs you can feel safe in knowing that the job will be carried out efficiently, and to a high standard by a company that is happy to be held accountable for their work.
We also have strong relations with schools and local businesses who repeatedly use the company due to the trust built between the client and the company. We are accustomed to taking on large scale jobs and are more than willing to work with larger areas and businesses to fulfill your needs. Our portfolio consists of work from car parks to playgrounds, road surfacing and pavements, no job is too big and we are yet to encounter a project that we are unable to handle.
Call Us On
07813 932 092 or 01922 519 851
Our Promise to YOU!
We recognise our customers are the most important asset of our business and are dedicated to providing you with a service which is second to none and that you would be happy to recommend.
All of our customers can expect a service which exceeds expectations and satisfies their every need.
Our workforce are only the highest qualified available to us and we guarantee to offer a free no-obligation quote for all projects, with no pressure or hard selling to force potential customers into something they're not sure about. We are also on hand to provide advice and guidance in these unsure moments and are committed to the highest levels of external surfacing in every case.
Midland Tarmacadam Surfacing, Hayling Court, Lichfield Road, Walsall, WS4 1PY
Email: info@midlandsurfacing.com
Mobile: 07813 932 092
Walsall Office: 01922 519 851
Wolverhampton Office: 01902 262351